Phil Lewis - Artist Series Camp Lanterns
We collaborated with famed artist Phil Lewis to light up the night and bring a festive mood to your next outdoor gathering.
Hang this lantern on your RollR, in your tent or place it anywhere you want to set the mood and find your way in the dark. Dim and bright settings give you 6 to 8 hours of night vision friendly light so you can find your beer and still see the stars. Includes a USB output where you can charge your phone or other small devices.
Customer Reviews
Write a Review
Ask a Question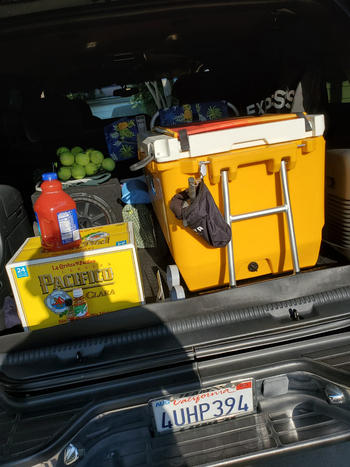 09/09/2020
Purchase
Great customer service...and your shipping is quick keep up the great work... hopefully couple of my friends start buy ROVR they love mine.
Jacob H.
United States
09/24/2020
Great Lantern
Great lantern - gives a perfect mood light.
Paul F.
United States
05/12/2020
Camp Lanterns
These lanterns are beautiful. I bought the bear and the campfire. Led rechargeable lighting. Very happy with them!
Kellie J.
United States
09/08/2019
Beautiful!
I was first worried that I was overspending for a simple lantern. But I bought it anyway. When it arrived I opened it immediately. It is one of the most beautiful things I have seen. I was very impressed with the art and how the light works. I like the two settings of high and low. The artwork makes it definitely a true work of art. There is nothing on the market quite like it that I have seen. If I could add one thing to it, it would be that a third setting be added for a blinking light. At any rate, it is a magnificent thing to behold. I am here right now to purchase another one. I just didn't think one was enough.