KeepR
The KeepR is not only a great cocktail caddy or mobile bar, it's the modern-day version of a picnic basket. There is no limit to how you can organize your goodies for that fun outing. Cups, utensils, plates, fruit and even cheese and crackers find a nice home, safe in separate compartments that are easily accessible. The KeepR carries like a pail and rests flat on surface, so that it can be the center of attention and always open for service.

Includes IceR.

Customer Reviews
Write a Review
Ask a Question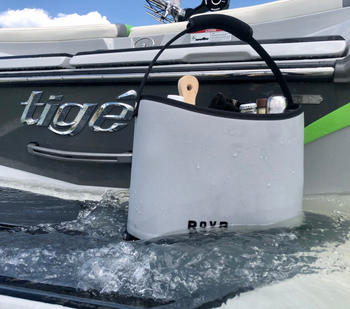 07/29/2020
Perfect mobile bar and picnic caddy
This is an awesome mobile bar and outdoor picnic caddy for so many situations. I take it out on our boat all the time and took it to Utah for a 3 day camping trip in the high desert. I was able to make cocktails for everyone by the fire and it even fell off my chair upside down into the dirt and none of the bottles or fixins fell out. It is alos easy to rinse out with water and keep clean! Thanks for paying attention to folks who love making cocktails with fresh ice in the outdoors!
Tom D.

United States
03/24/2021
It's a KeepR!!!
We love this bag. Has many uses and does a great job. Looks good too. Already been stopped and asked what it was and where could they get one when we used ours for the first time last week.
Brent P.

United States
02/01/2021
I love my keeper.........but
Great idea and really well made, it's a bit costly but quality always cost a bit moreI. I wish it had an optional ' removable top and came with an extra divider. One reason it may not include a lid is because some tall bottles might not fit in the bucket. Still, I would buy it again in a heartbeat and I plan on buying at least two as gifts later this year. As a guy that has been known to show up to a casual event with my own bar set up, it's perfect, I really like it. I'll probably figure out a way to fabricate my own top.
David

United States
11/25/2020
Excellent party bag
This is my first RovR product and very impressed. Great bag for bringing liquor, wine and all the accessories to parties. It is a very sturdy and great looking bag, my only concern is the handles for the ice bucket lasting over time.
Jason

United States
Thanks Jason! IceR 2.0 will have improved handles, hit us up next year, and we will take care of you should any issues arise. Happy Thanksgiving, and thanks for your support! Team RovR
11/15/2020
Great product except for handles on ice bucket.
First, the sividers are adjustable, or completely removable to expand the space depending on what you're carrying. If you use all four dividers then a bottle of wine or champagne will minimize the space you have on the opposite side so you can't carry as much. You'll notice on some of the pictures they've included a flask, and thinner bottles to make it seem like it carries more than it actually does. However you can remove dividers to accommodate mixers or snacks along with the ice bucket. We took our Keepr out for a picnic in the mountains to celebrate Biden/Harris winning and it took removing two dividers until we could fit a bottle of wine, champagne, and snacks in such a way that it didn't look cramped and accommodated everything comfortably which is the great thing about this product. My husband looked at the Keepr and said, "this is too much" but as usual he was thankful because the Keepr is very functional and he loved having everything readily available instead of digging through a tote. The Keepr looks greats for it's aa great size. The handle is made of a soft comfortable material which feels great and folds down out of the way. The one drawback are the cheap plastic handles on the ice bucket which feel brittle. I hope the company eventually sells the standalone ice bucket if or when the handles break. Otherwise, it's a great product.
Santos C.

United States
Thanks Santos! IceR 2.0 will have improved handles, hit us up next year, and we will take care of you should any issues arise. Happy Thanksgiving, and thanks for your support! Team RovR