Colorado RollR 85
Roto-molded and assembled in Colorado, our RollR 85 is an 85-quart carrying, all-terrain attacking, patented design that can go anywhere you can. Engineered with the world's best cooling and organization design on the inside and built to carry your campsite, tailgate or party on the out.
SIZING & CAPACITY GUIDE
Certified grizzly bear resistant rotationally molded body and lid with anchor pins for attaching prep station and accessories.

Up to 10 days of ice retention depending on use.

Capacity in food and beverage terms: Without Deepfreeze dry bin installed: 120 cans and 20lbs. of ice. With Deepfreeze dry bin installed: 88 cans and 10 pounds of ice in main compartment and over 6 bottles of spirits upright, 10 pound sealed bag of ice, 50 quarter pound burgers, a full slab of ribs, and an assortment of breads, fruits and vegies in dry compartments.

High density foam insulation

High performance wheel assembly: 8-inch all-terrain rubber tires with interchangeable tube, aluminum hubs with 2 sealed bearings *

12.5 mm stainless steel axle *

Aluminum pull handle with dual motocross style grips *

Deep Freeze removable Dry Bin with 3 compartments *

Airtight gasket *

Rubber latches *

Fast Flow drain plug with gasket *

Wagon Bin/removable storage bin *

Rubber non-skid feet *

5 year limited warranty**
* Can be removed, replaced or repaired at home to increase the longevity of your RollR under the most extreme conditions.
** Refer to warranty on site for more info.
Customer Reviews
Write a Review
Ask a Question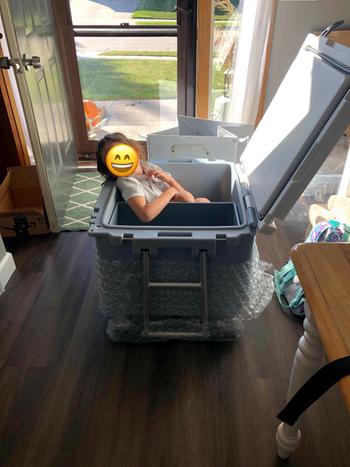 10/27/2020
Huge, yet easy to maneuver and COLD
We are a family of 5 and the Colorado RollR 85 had more than enough room to keep us stocked over a 3-day camping trip. The tote on top is great too! We could easily see this fitting food for a whole week. The ice hardly started melting after 3 days. Even fully loaded, my husband (average build) was able to lift this in and out of the hatchback alone, and my 6 year old could roll it around herself. So happy with it!
08/11/2020
Dinkey Creek 2020
Loved it. Used the cutting board after cooking up about 12 New York steaks
08/28/2020
Rovr Colorado 85
This cooler is great. Like any cooler it's not going to literally keep all of your ice from melting, but for it's size and space it does an incredibly decent job. The handle and wheels are both sturdy and strong, and the dry bag on top is incredibly functional.
08/06/2020
Great Transportable Ice Chest
Met or exceeded our expectations. Rugged, well built with quality components, and reasonably priced. Highly recommended.
06/17/2020
Colorado 85
I love the cooler but I don't understand why the Velcro to keep the dry bin attached came off the first time I tried to take the dry bin out. For ~$500 why is the Velcro so cheaply attached?